Scientific Classification
Name: Green Anise
Scientific name: Pimpinella anisum
Kingdom: Plantae
Under reign: Tracheobionta
Division: Magnoliophyta
Class: Magnoliopsida
Order: Apiales
Family: Apiaceae
Genus: Pimpinella
Habitat: Anise grows in Southern Europe, South America and various other parts of the world and especially in Asia. This plant is actually native to the Asian continent, probably the Near East.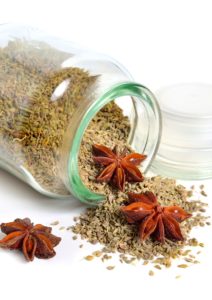 Therapeutic effects
Organs involved: Digestive system
Effects: Galactogogue, carminative, antibacterial, antispasmodic.
Active ingredients: Essential oils (anethol and estragole), flavonoids, coumarin.
Indications :
Internal use: Dyspepsia, bloating or flatulence, colic.
External use: Greasy cough, lice.
Indications after the childbirth:  Green anise also promotes, like fennel, the rise of milk after childbirth. It is associated generally with the fennel and are taken in the form of herb tea.
Side effects:  Allergies -> do not take if you have allergies. Skin problems, gastrointestinal problems.
Posted in September 2023
Sources: Creapharma / Wikipedia
________________________________
DOWNLOAD FOR FREE OUR FILE