Nature in Singapore
Discover the nature in Singapore through Gardens by the Bay and Botanic Gardens have been a real heart stroke when I discovered for the first time those both places.
For Garden by the Bay I had the impression to be on another planet. In a big city like Singapore is, this is important to have a place like the Botanic gardens in order to walk around and discover many worldwide plants. According to me, the Gardens by the Bay and the Botanic Gardens represent well nature in Singapore,  and also technology. Discover my vision through this post.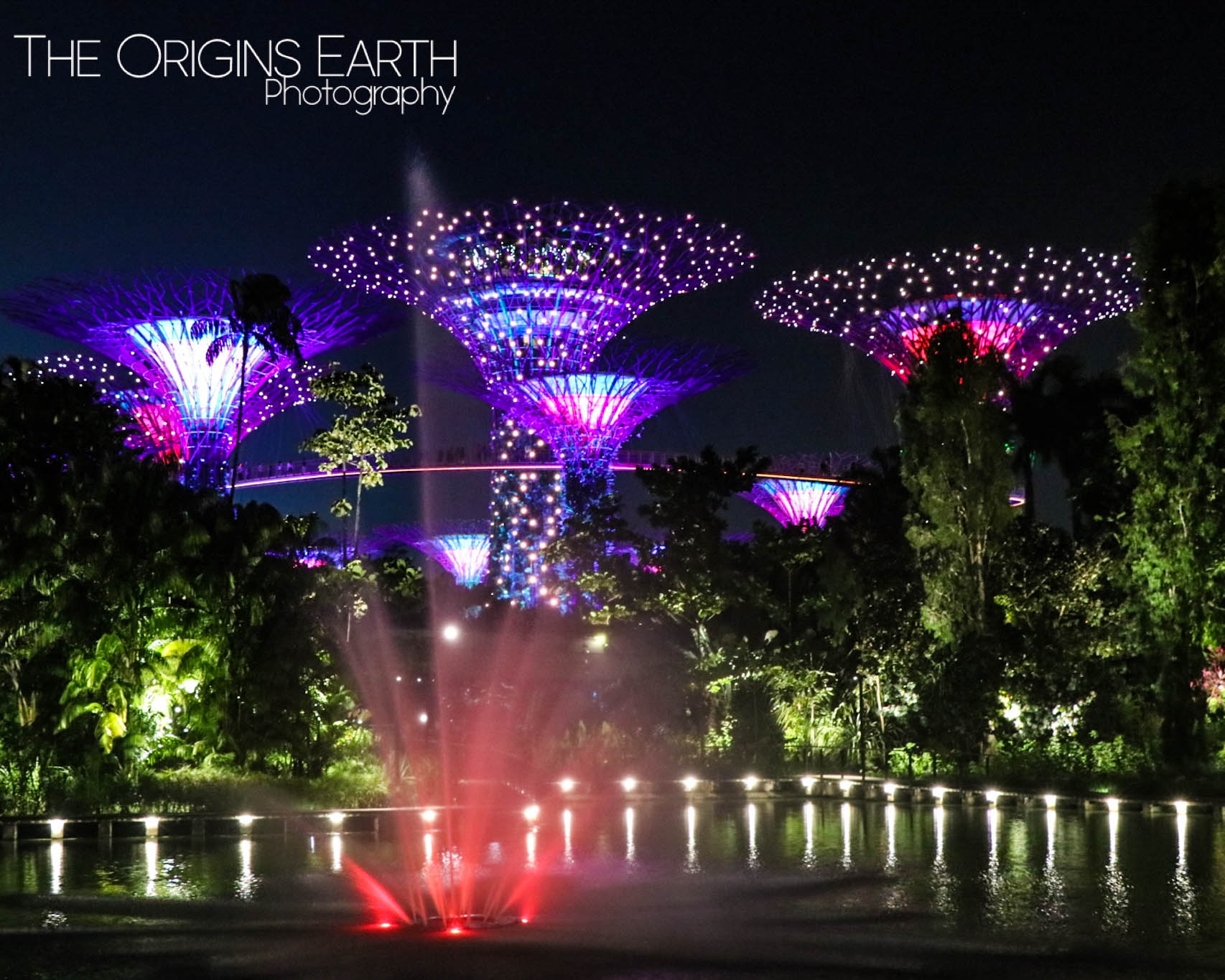 Gardens by the Bay
When you arrive in this place, you are completely captivated by all those big 18-trees named Supertrees, and whose are in the middle of the garden. Those trees bring you an intense curiosity that do not leave you until the end of the visit such they are impressive. You have the impression coming in another world such trees are unreal, and, they are. At night, this unreality world is still better felt thanks to a light show organised with Supertrees as being the central attraction. It is absolutely magnificent and it intensifies this feeling of being on another planet like in the Avatar's movie, on planet Pandora.
Gardens by the Bay are not only a place where light shows are the main attraction in the evening, but this is also where creators have wanted to introduce diverse plants in order to protect them.
In fact, Supertrees are a purple metallic structure where plants has been introduced in order to grow up and capturing solar energy through photovoltaic cells so that it allows having enough energy for all light shows proposed at Garden by the Bay every night. Those photovoltaic cells are like a "copy" of what trees are doing every day thanks to their leaves.
Indeed, trees collect water from rain to take molecules of H2O. From the air it is CO2, which is taken by leaves of plants. That is what happens every day all around the world. Leaves or more exactly chloroplasts are turning solar energy into chemical energy producing sugar for their food. This sugar is created with CO2 from the air and water (or H2O) from the soil. This process is called photosynthesis, and, obviously, the results are sugar and oxygen (O2).
This garden is not only a garden where you can have a walk around, but also a place where there is a good mix between technology and nature, and this is seen very well thanks to Supertrees, which are characterising technology, and plants around them are representing Nature.
Singapore wanted to create two different universes gathering them in one, which finally has been well coordinated by developing Gardens by the Bay. In the future, Singapore can become a good example for other cities around the world in the development of green spaces. Furthermore, Singapore has a mission that is to be a model for sustainable development and conservation, and cities have the same project can take example to Singapore for a same project. They are going to the right direction such their garden has been well thought.
Around their Supertrees, there are explanations about natural cycle of plants and what happen with photovoltaic cells situated on the top of the super trees. Those explanations are really clear and useful. In fact, this allows to the public to have a good knowledge of what really are "Gardens by the Bay".
We do not find out only Supertrees but also a wonderful park with a small pond named Water Lily and a lake named Kingfisher. This park is situated right behind the Flower Dome and the Cloud Forest near to the waterfront promenade, a place well developed where people can have a run. Nature in this little park is so lovely with palm trees and unusual plants; it deserves a visit, and this is a nice place to walk around in the middle of vegetation after or before a visit at Flower Dome and at Cloud Forest.
Symbol of change
Gardens by the Bay are symbol of change in Singapore and in the world. Indeed, this shows a new turn in term of environment in cities by drawing attention to the importance of investing in parks and green spaces. This is a great idea that the Government has developed and even if the city is so polluted because of traffic and because of an important use of electricity. Singapore is qualified as a city of the future thanks to this envy of doing something for the environment and, this, despite of the quantity of cars.
Flower Dome with Cloud Forest, Gardens by the Bay and Marina Bays Sands as 3 different symbols of Singapore
It is possible that you probably never thought about this aspect when you are seeing videos or photographs of Singapore. Indeed, Singapore is well represented thanks to those three "attractions". Everybody who is visiting Singapore for the first time will see those 3 symbols because they really symbolise Singapore. What may really see of Singapore on videos or photographs posted on Internet all the time? This is my turn to show you how I see those 3 symbols and what they characterize for me.
The Flower Dome with the Cloud forest and Gardens by the Bay on the foreground, and on the background we see this impressive hotel named as Marina Sands Bay from where clients have a magnificent view of Singapore Bay in one side and city centre in another side.
Those three objects characterise very well three distinctive things but putting together they represent Singapore and what this city-state would like to show to visitors and its citizens. Furthermore, Flower Dome and Cloud Forest represent nature conservation with all plants, flowers, and trees, which are showed and protected into those glasseshouses. Gardens by the Bay represent technology with all Supertrees, and their photovoltaic cells that bring a light source for light shows every night. Finally, the Marina Bays Sands, a 5-star-hotel that have an wonderful view over the city, represent luxury with also its huge Mall having luxury brands such as Gucci, Cartier, Longchamp, and so on. So Luxury, nature conservation, and technology are the 3 main fields around which Singapore has been built.
The Singapore Botanic Gardens
The Botanic Gardens of Singapore situated in the heart of Singapore have different lakes and different gardens spread around this big UNESCO world heritage built by Britain in colonial era. That is why you may notice its colonial aspect.
If you are looking for a peaceful place, this is the right one such it is far from roads and cars. In fact, when you get in to this botanic garden you can notice its quietness, and it is very pleasant but you also may have this feeling of being elsewhere and not being in Singapore. It is a huge botanic garden getting the impression to be in countryside.
While your visit you discover different sort of gardens such as healing garden, orchid garden, evolution garden with species from ancient times (e.g.: dinosaurs), a rain forest with specific species, fragrant garden, and foliage garden. At the bottom of each species of plants or trees you can find information about.
This botanic garden is not only a place to visit but also an important centre for plant science, research and conservation, and you may notice it by richness of their species all around.